Regular price
Sale price
$15.00 CAD
Unit price
per
Sale
Sold out
Just as a tree connects to the Earth's energies, this elegant Tree Agate design allows you to become deeply rooted by improving your confidence and self esteem. While relieving physical and emotional exhaustion so you can be connected to a deeper purpose.  
In addition, Lava stones are known for its grounding qualities giving us strength, courage and stability and are wonderful for calming the emotions. The porous Lava Stone allows for the absorption of essential oils. 
Suitable for children ages 6 years and over.
Materials:
 Tree Agate 8mm
 Jasper Wood 8mm
 White Lava Stone 8mm
Pewter Embellishments (Silver) 
*These products are not intended to diagnose, treat, cure or prevent disease. The results are the sole responsibility of the wearer.
Share
Where do the essential oils go?

Simply add a drop of your favourite essential oil(s) to the porous Lava beads to enjoy the therapeutic benefits of your essential oil(s)
all day long!
Sizing

Sizes:

 XSmall - 6.5" bracelet length 
 Small - 7" bracelet length 
 Medium - 7.5" bracelet length 
 Large - 8" bracelet length 

To find a nice comfortable fit, measure your wrist and add half an inch for a snug fit or a
whole inch for a loose fit.

Example: If your wrist
measures 6" you would choose size XSmall (6.5") for a snug fit OR size Small (7")  for a loose fit.
Shipping

Our team will ship your order within 5 business days. The time it takes to receive your order depends on the shipping method of the courier.
View full details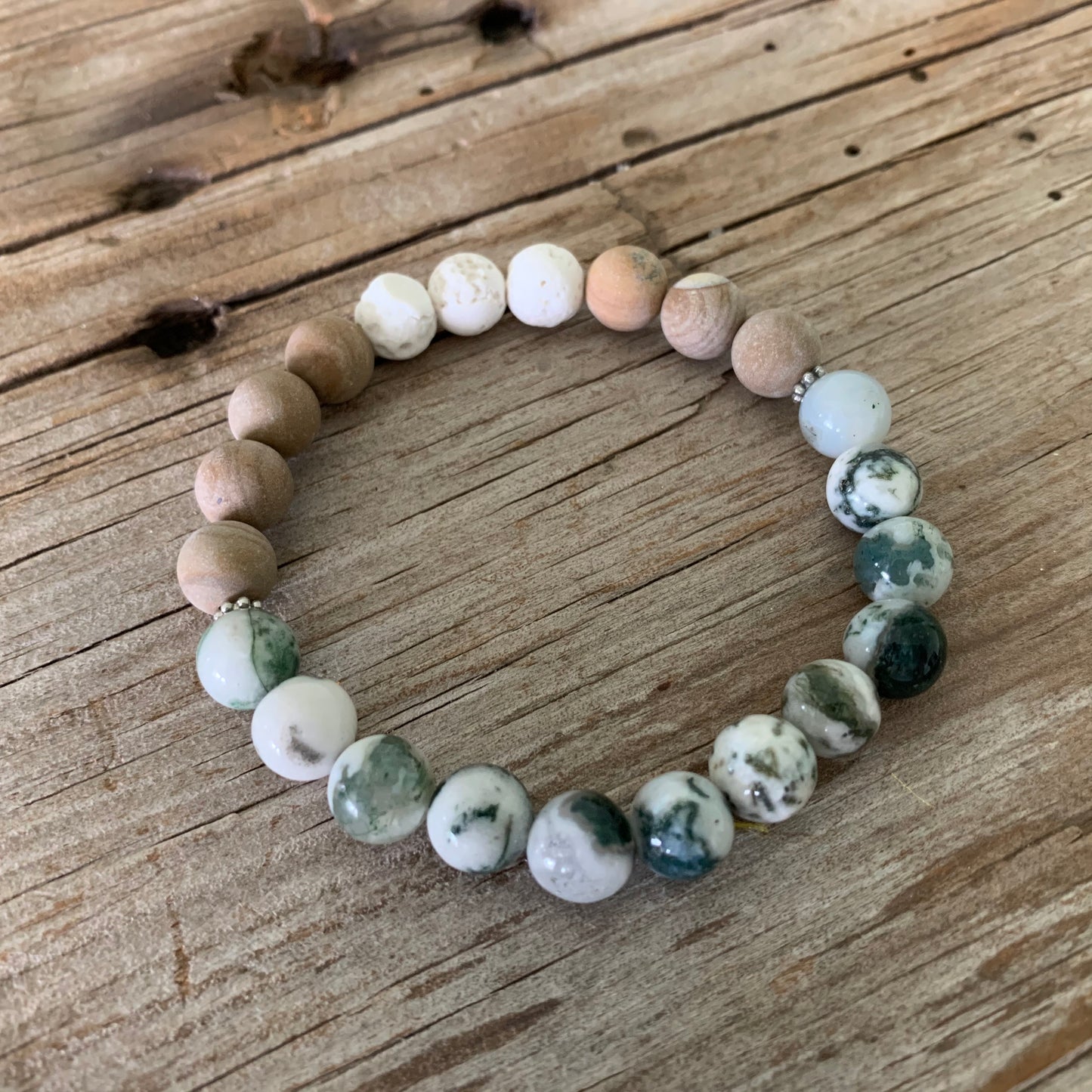 "Everytime I see them at the Arthur Cash & Carry show I have to get another one. They are gorgeous! "
Aromatherapy Mala Bracelets carry different intentions and are the perfect and portable way to enjoy the therapeutic benefits of your favourite Essential Oils all day long.